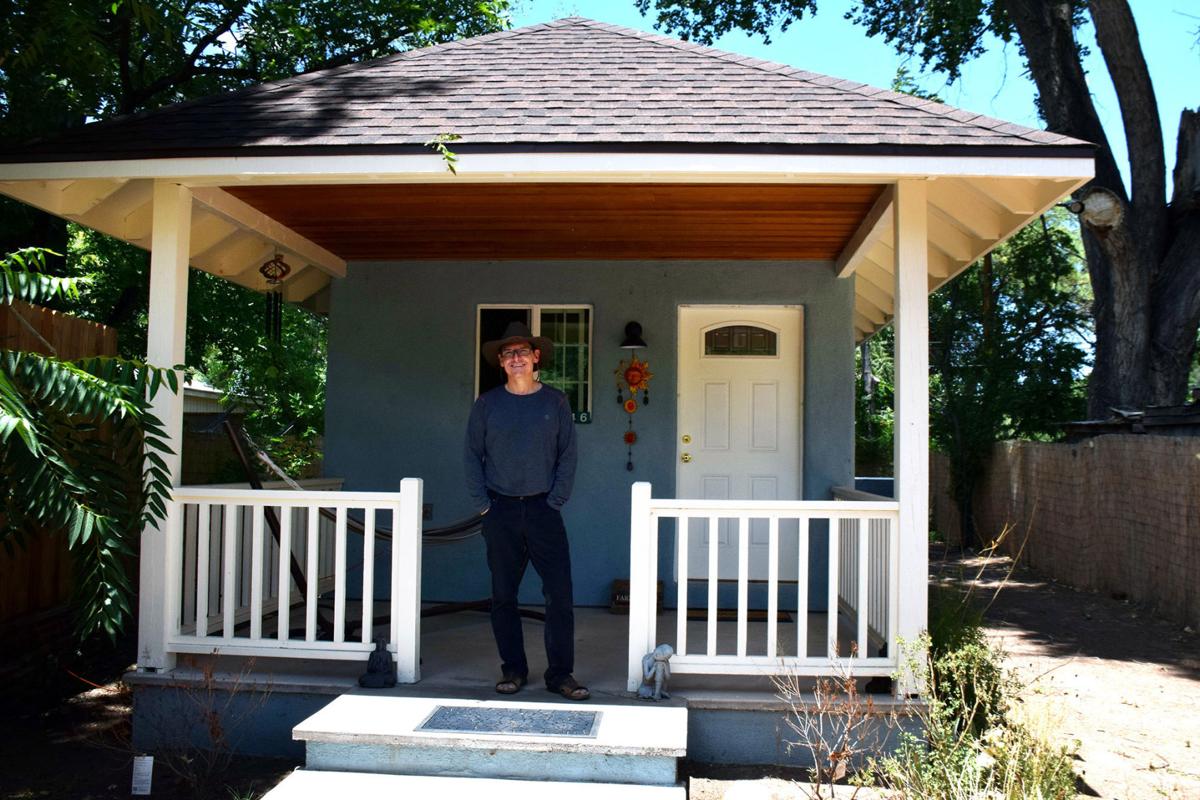 On the southern end of Patagonia, a sky blue house trimmed in white is shaded beneath a canopy of soaring mesquite and cottonwood trees.
The picturesque home has a clear view of the Patagonia Mountains from the front yard, where wind chimes and decorative pinwheels rang lightly in the breeze on a recent Wednesday afternoon. In the back, there's a small garden under an apple tree.
The house's most striking feature, however, is its size. It's small. In fact, at just 300 square feet, it's tiny.
"There's a better way to live," said Todd Lipton, a health broker in Chandler, Ariz. who owns the tiny home. He says downsizing living space and costs is a way for people to "live with all the modern day conveniences, but have a lower carbon footprint and pollution, and not have a debt-ridden problem of a huge mortgage."
Built in 2015 on a small lot formerly occupied by a trailer, the tiny house is the first of its kind in Patagonia, Lipton said, but part of a larger movement that has taken the United States by storm in recent years. And though the tiny house trend has gained popularity since the Great Recession in 2008, some people link the spirit of the movement to writer-philosopher Henry David Thoreau's days at Walden Pond in the mid-1800s.
Nationwide, tiny homes are selling quickly and appreciating at about twice the rate of traditional houses, according to data from Realtor.com. In Patagonia, at least four more tiny homes are currently under construction, including a pair being built by Lipton and two others by a mother-daughter duo down the road, he said.
"It's picking up here. Other people are building tiny homes, which is what we want to do," he said. "My goal is to make this tiny town the tiny house town of Arizona."
Tiny homes, which are loosely defined as houses ranging from about 100-400 square feet built either on a foundation or on wheels, are about more than just living in a small space, he said. They often come with a certain lifestyle built in as well.
A tiny house allows tenants to focus less on money, but still have a comfortable living space with the amenities they enjoy, said Lipton, who started looking into the small-home movement in 2012, in part because he was worried about the financial future of his two teenage sons.
"My core belief is to teach people how to get out of debt and still have a nice lifestyle," he said, calling the desire to "keep up with the Joneses" a burden that keeps people in debt and prevents them from fully living.
"It's freeing," said Crystal Garland, a tax accountant who plans to move from Tucson to Patagonia in July to live in the tiny home.
Wanting to get out of Tucson, Garland said, she liked the idea of moving to "quirky" Patagonia just down the street from the community garden and a few blocks from the main drag. She's been looking at tiny homes for a while as she tries to downsize in other areas of her life as well.
The tiny house of Patagonia, she said, is a perfect fit.
"The house is super adorable," she added. "And the layout is ideal for the size of the house."
Garland, a 42-year-old tax accountant who works from home, said Lipton has made the space modern by adding USB ports to the outlets and connecting the doors, lights, heater and cooler, and even the smoke detector to her cell phone through wireless internet. And unlike some tiny homes which are "off the grid" and have composting toilets and other features that make them mobile, she likes that this home is connected to the same utilities as the neighbors, while allowing her to save money with its small size.
"It's built sustainably, and it's definitely made to work with the technology world that we live in," she said.
Though the house is comprised only of one main room, with a kitchen and kitchen table, a loft and a bathroom, Garland said fitting her life into that space won't be a problem.
"I'm not that big of a person," she joked, adding that the space is meant for two people and has built-in storage, with a closet space in the bathroom and shelving and cabinets built into the house that can more than accommodate her needs. "It's actually nice not to have so much stuff taking up your life."
The small space, Lipton added, makes people use their resources in creative ways and helps them see what is really essential to their lives.
"It's simply a matter of taste and what works for someone," he said, noting that while some people sleep in the loft, his former tenant used it as a library. Garland said she plans to maintain it as a meditation space and have a daybed on the main level that doubles as a couch instead.
Though Lipton still lives in Chandler with his 17- and 18-year-old sons, he is excited for the day when he, too, can move into one of the tiny homes, he said while standing on the front porch next to a hammock and looking out at a fire pit he recently added in the front yard.
[Source"timesofindia"]