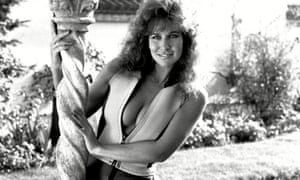 Linda Lusardi models a rubber outfit made from a diving suit by The Pink Soda Company, 1989. Photograph: Steve Poole/ANL/REX/Shutterstock
When the seemingly arbitrary mish-mash of late Sixties fashion give way to a renewed interest in sport and sportswear in the Seventies (albeit sometimes horribly translated into satin boxer shorts and wedge-heeled trainers), it presented a blessed, wholesome alternative to the fashion for cheap synthetics, flares and platform soles.
'The jog-in replaced the love-in,' said Sportswear in Vogue, and although the attendant clothes were welcomed for their loose, liberating comfort, it was, eventually, those sporting pursuits which demanded a streamlined silhouette, arrived at through clothes made from Lycra and Spandex which made the most popular, influential transition into fashionable daywear shiny disco pants, leotard tops and the ubiquitous legging are legacies of the sportswear trend.
These fabrics were no less comfortable, but, unlike the cover provided by a generously cut expanse of grey sweatshirting, they made no allowances for a disobediently undulating figure, and found few friends in the armchair athletes those who desired the sporting aesthetic but abhorred the physical effort and the outward signs of sweaty exertion that went with it.
The skateboarding craze of the mid-Seventies was succeeded by roller-skating and roller-disco. Glossy, clinging Lycra in lurid colours were the favourite uniform, and brightly coloured, tight velour was worn in the evening with high heels. In 1980, Olympic year, the skin-tight trousers and back-zipped jersey of the cyclist became fashionable. Bodybuilding and weightlifting for women were also popular in 1980, and Norma Kamali adapted the weightlifter's outfit for aerobics.
Dancewear and cycling gear will have a recurring influence on fashion, but sports which have only recently become widely accessible – scuba diving, canoeing and windsurfing – are the latest targets for fashionable adaptation. Neoprene, the rubber fabric used to make wetsuits which looks as if it might be hot, uncomfortable and unyielding, has the fit and the visual appeal of Lycra. It moulds to the skin, has boldly defined seams that streamline the contours of the body, and, unlike any other fabric, has an outer covering of nylon to which any number of luridly fluorescent colours will readily adhere.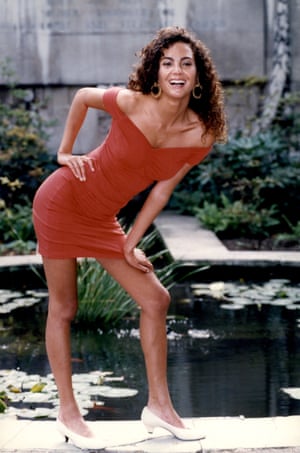 Neoprene beachwear will appeal to those people who, in warm weather, don't mind the pore-clogging experience of synthetic fibre against hot flesh, while the rest of us, very Englishly, crave voluminous cotton and linen, and to hell with the body contour.
Much to the horror of windsurfing experts (who are mostly Cornish and called Julian), the way Neoprene is being used for fashion purposes by the likes of Pink Soda and Body Glove displays scant regard for the technicalities required to produce wetsuits designed to insulate and protect. Real wetsuits boast impressive details such as lined lower leg panels, ribbed knee-pads and internally heat-taped seams.
Their aesthetic appeal was always of strictly secondary importance until recently when windsurfing, in particular, became the safe sex of the stockbroker belt. Partly for safety ('there are still people out there having a good time in a Force 10 gale'), partly for show-off luminescence on your last-board-upright prowess in lashing winds, Dayglo colours are the last word in wetsuit chic.
Gul is the leading manufacturer of wetsuits in this country, and is based in unexotic Bodmin. The Gul catalogue shows expressionless automaton-like models dressed in every permutation of the wetsuit no sleeves and short legs, long legs and short sleeves, or just a limbless torso, and all with alarming piebald patches of Dayglo.
Audible tones of green, pink and yellow are quite rightly, says the man at the grandly named Ocean Leisure department at Lillywhites, 'for people who like to impress other windsurfers'. Although anyone who has ever worn anything fluorescent will know that Dayglo doesn't do great favours for a pallid English complexion. The colour casts an eerie glow across the skin and never fails to make the wearer look extremely ill.
Jeremy, the UK salesman for Gul talks breathlessly into his carphone from an unspecified location Up North. 'They want traditional colours up here,' he says sulkily. 'Navy, reds and greys. They're not ready for Dayglo.' Who is? Jeremy believes that fluorescent ski clothes are doing a grand job of convincing the sport-loving punter that Dayglo is in that is, they don't mind looking total prats if the rest of the gang do too.
In Wetspeak, a steamer suit is the most popular style. It's a semi-dry suit which lets in a small amount of moisture and, as the name suggests, maintains a chic facade while underneath, a great hissing sauna-type situation prevails. Initially a one-piece suit for surfers, the modified steamer has become standard wear for anyone whose sport or work, exposes them to the cold.
Wet suits can cost anything up to £240, and although DIY kits are available, the experts warn against them. 'The legs hang like sausages,' says Jeremy at Gul. 'Our wetsuits have special knee sections and pre-bent joints.' Suddenly a sausage-shaped leg sounds very attractive. 'Women's legs are different to men's,' he says, offering a rare insight. 'A homemade suit would be like wearing, say, a pair of stiff stockings.'
The way to maintain your Neoprene garment once you've forked out is 'not with talcum powder and Fairy Liquid, that was 20 years ago,' snorts the man at Windsurfers' World, horrified that such feminine trappings should be associated with the suddenly butch world of windsurfing. 'Fresh water's the thing. Just dip it in and hang it up.'
["Source-theguardian"]