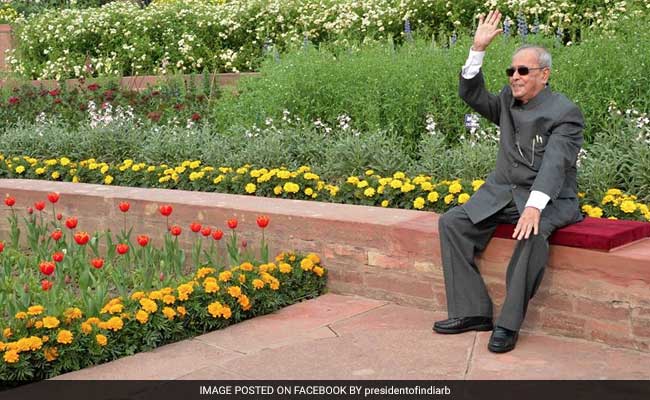 Mukherjee and his wife Suvra Mukherjee. This is the first time a special rose is named after a President. The rose named after President Mukherjee is yellow, the one in name of his wife is pink-purple. The special roses are developed by plant breeders from Pushpanjali rose nursery, Jakpur, West Bengal.
"The nursery approached the rose federation corporation to release these two new varieties. The India Rose Federation approved the same and released the varieties in January during a rose show in West Bengal," Secretary to the President, Venu Rajamony, said.
The roses, which are on display in the main Mughal Gardens have not flowered yet but the authorities are hopeful they will bloom before the garden closes on March 12.
Besides this, the other big highlights of 'Udyanotsav' 2017 are special theme-based exhibition of vertical garden forms and air purifying plants.
pranab mukherjee
President Pranab Mukherjee walking in the Mughal Gardens.
With an aim to increase awareness about the benefits of air purifying plants, around 30 varieties of them including Banana, Dedrobium orchid, Weeping fig, Moth orchid, Red edged Dracaena, Barberton daisy, Aloe Vera, English Ivy, Dwarf Date Palm among others, have been put on display in various sections across the gardens.
A combination of flowering and other house plants has been used to inscribe words 'India' and 'Jai Hindi' on the walls of the gardens.
There will also be an exhibition stall displaying organic fresh vegetables and fruits grown in the President's Estate organic farm.
This time around 14,000 tulips are planted in the garden and are expected to bloom in phases up to March 5.
Apart from the main Mughal Gardens, other gardens including Circular, Spiritual, Herbal, Bonsai and Cactus, Nakshatra, Musical and Tactile will also be open for public from February 5 to March 12 except on Mondays which are maintenance days between 9:30 am and 4:00 pm.
["Source-ndtv"]