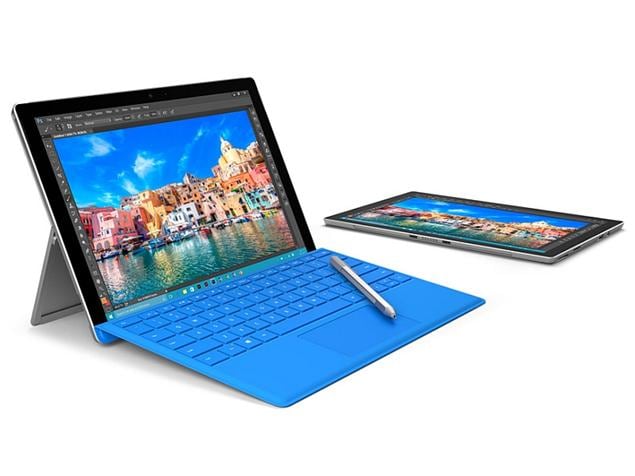 Microsoft Corp. is making yet another bold leap into hardware with the announcement of the new Surface Laptop, a device that takes direct aim at Apple's MacBook Pro and Air notebooks with one lighter, more powerful PC, with a competitive $999 (U.S.) price tag too.
"This is the laptop that starts to reset the category," declared Microsoft's Panos Panay, corporate vice-president of devices, during a Tuesday news event that spent most of its time focused on the company's education software.
Since 2012, the Surface line has been Microsoft's experiment in tastemaking. The original Surface launched a new tablet category, the detachable, and last year's Surface Studio desktop is not just gorgeous to look at, but its tilting drafting-table-like touch-screen design has inspired copies by other Windows-based PC makers.
Making a premium laptop would seem to be less about creating something entirely new and more about taking on Apple on its well-defined design-first turf.
"Looking back over the history of computing, you've seen Apple do well in the design space. They had a unified vision; Microsoft never had that," said Jitesh Ubrani, a senior research analyst with market analysis firm IDC.
His view is that before Surface, Microsoft tried to make products optimized to the widest variety of customers and not necessarily to be the best product in a category. "It was always about mathematics and statistics and having options available. Apple took the route of saying: 'This is what we're offering, you either love it or hate it.' And people loved it."
Since 2015, Microsoft has had one unified design team for all its products led by Ralf Groene, who joined the company in 2006 and then joined Mr. Panay's original Surface team in 2011.
Mr. Groene, who grew up in the Volkswagen manufacturing hub in Wolfsburg, Germany, said Microsoft may still use different materials and methods in each Surface device – not to mention future HoloLens products and upcoming Xbox consoles – but that it will be apparent that it's all from one design team.
"People think of design language as how the products all look the same, or look similar. They would get that kind of geometric or material references from one to another. In the automotive industry, they have a lot of these kind of signature elements that make products identifiable. Instead of a design language, we want a design culture," Mr. Groene said.
That culture extends to integrating software and hardware features: The Laptop's screen turns on almost immediately when opened (a fix that required a re-engineering of Windows 10). The Surface Laptop couples technology advancements such as putting the hard drive directly on the motherboard – which helps improve performance enough to offer 14 hours of battery life – as well as hidden features that add more value than simply summing up the price of the parts.
"Put it in your hands, you're going to find no reference to how any of these parts have come together in the product," said Mr. Panay, whose passion is always palpable when he appears on stage, and on Tuesday he spun another almost messianic sermon about the Surface approach.
"You won't find a screw, you won't find anything that leaves a parting line across the device. It is meant to be silent to the eyes: When you look at it, does it feel good, does it draw you in?"
The idea that a laptop can appeal to a customer's emotions might make some roll their eyes, but, as Mr. Groene said, consumer feelings are there whether you pay attention to them or not.
"In order for your mind to get into the digital space, you have to go through something physical. You have to have that phone, tablet PC or some other gizmo that brings the digital to you," said Mr. Groene. "It was very important to us that we make Surface Laptop feel like an object that people feel emotionally connected to, not just a machine."
Microsoft's gizmo business could also use some good feelings. It's been 20 months since it last updated the Surface Pro and hardware was the ugly duckling in the company's third-quarter earnings report.
Surface revenues were down 26 per cent year over year, pushing overall hardware revenue (which includes licences from PC-makers who sell the vast majority of Windows-based devices) down 7 per cent, to $8.8-billion.
One group that might not be excited to see a high-end Apple-killer from Microsoft are its hardware partners, the massive PC-makers such as Dell and HP. The improved performance of the new Windows 10 S operating system has helped smooth those waters, according to Yusuf Mehdi, corporate vice-president, Windows and devices group.
"Laptops that have better performance, better battery, will that grow the market? Will that help us as an ecosystem compete better with Apple?" Mr. Mehdi said. "That's how we found our way through on the Surface Laptop … even as it's less of a completely new category of device."
Mr. Panay's window of opportunity is that Apple has also not released a major update to the MacBook Air since 2015, and still hasn't adopted full-screen touch technology on its laptops (2016's MacBook Pro update incorporated a skinny strip of touch bar above the keyboard).
As Microsoft is discovering, the hardware market never sleeps and even good design gets old fast.
"I have a huge list of things that we want to improve on our products. The longer I work on this, the more sensitive I get to the things that I still find not perfect," Mr. Groene said. "But we all, as a team, work on getting results … and then sometimes you bring the next generation product to market where all of these little items are solved."
["Source-theglobeandmail"]