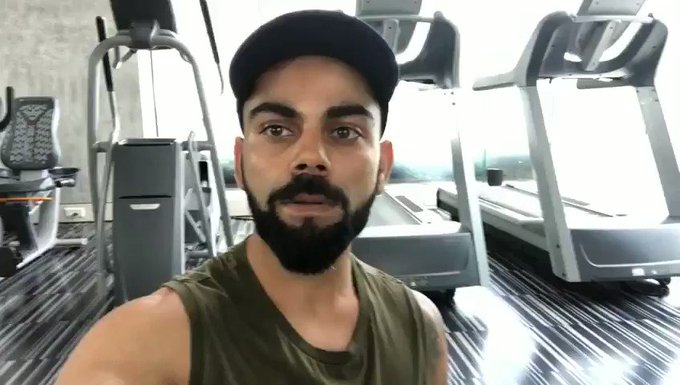 During his monthly radio programme 'Mann ki Baat', Prime Minister Narendra Modi called for a 'Fit India; movement to drive the country towards being more conscious of their health and well-being. And since then, a host of people spearheaded have come together to be a part of the #HumFitTohIndiaFit campaign.
"A healthy India is the cornerstone of a developed India. In that spirit, let us make #FitIndia a full-fledged mass movement that further popularises sports and fitness among our youth",  Celebrities such as Hrithik Roshan, Virat Kohli, Anushka Sharma, and Deepika Padukone are among the few celebrities to have taken up the challenge.
The #HumFitTohIndiaFit campaign was started by Information and Broadcasting Minister Rajyavardhan Singh Rathore. He then tagged Virat Kohli, Hrithik Roshan, and badminton ace Saina Nehwal to do the challenge.
Roshan responded to the challenge with a video of him riding the bicycle, and Kohli posted a video of himself doing 20 spider planks. Kohli further challenged PM Modi and wife Anushka Sharma. Modi accepted the challenge and said he would be posting a video soon, and Sharma shared a video of herself lifting weights.
However, actor Akshay Kumar was the one of the first to join the movement, and also won appreciation from Modi for his continued dedication to the campaign. Modi said that the actor is a source of encouragement for today's generation and that he inspires the youth with his physical activities, which promote a fit and healthy way of life.
Celebrities apart, Union Minister Kiren Rijiju also took up the challenge with a video of himself exercising in his office, and further tagged Salman Khan, actress Saumya Tandon, and Arunachal Pradesh Chief Minister Pema Khandu.
PM Modi is an ardent fan of Yoga, and even released a #D animated video of himself doing the 'Trikonasana' pose. Please with the response to 'Fit India', Modi said, "I am glad with the overwhelming support for the movement. Many people have written to me about fitness, their experiences and what they do. I want to urge everyone to exercise for a healthy lifestyle."
["Source-youthincmag"]