Which edge, I wondered, as I sent off a request for a review copy of a new book Gardens on the Edge. We all garden on some kind of edge – up against the edge of time, money and space constraints; or at the outer edge of our skills and vision. And of course, the artist-gardeners among us are always out there on the edge, pushing themselves further away from the same-old same-old.
It turns out that Melbourne-based garden writer Christine Reid had geographical edges in mind. The 18 gardens featured in the book are situated at a frontier: on the edge of Sydney Harbour in the case of the historically fascinating Wyoming in Birchgrove; on the edge of a crater lake in western Victoria – Gnotuk; or on the edge of Goyder's Line, which divides the arid south from the considerably more arid north of South Australia – Anlaby.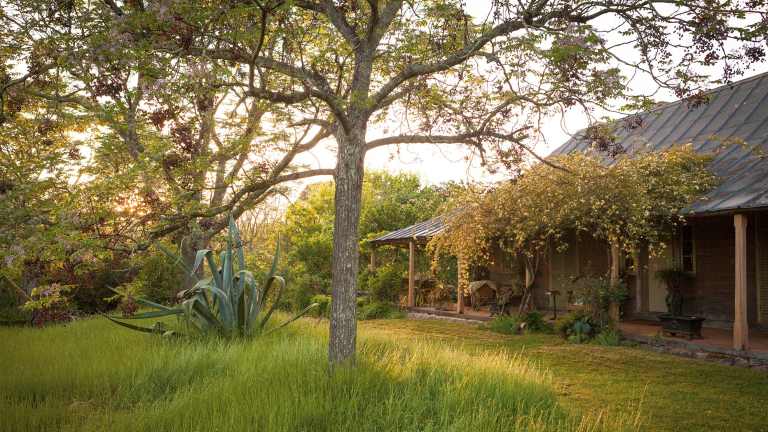 Many of the gardens she features have a long history, and my favourite is The Cottage at Mulgoa, "on the edge of the Blue Mountains". This is the oldest inhabited private house in Australia, having been built by in 1811 by Governor Macquarie's go-to man for public infrastructure, William Cox.
It is now, fittingly, the home of James Broadbent, historian, curator, and author of The Australian Colonial House. Broadbent explains his vision for the garden with a quote from English garden designer Norah Lindsay: "Every garden should be a continuation of the house it surrounds, and where the dwelling is old and sleepy, the garden, too, must be drowsy and lie under the spell of ages."
Lindsay would surely approve of Broadbent's creation of a garden that looks long-lived and loved, and as relaxed as the deep and shady sandstone-floored verandah that edges the house. Yellow banksia roses sprawl over the verandah posts; lichen crumbles off the wooden gates; and mixed beds of drought-tolerant old perennials and roses tumble together overlooked by mature trees.
As with the other gardens in the book, the images of The Cottage at Mulgoa give a sense of what it feels like to be in the garden. Photographer Simon Griffiths is a master of positioning his camera so that you feel you are walking through the space, brushing up against the textures and fragrances of the foliage, or pushing through the gate to take in a vista.
When you're in a garden you form a big picture of how it all fits together and relates to both the house it surrounds and the wider landscape that surrounds it. The introduction of drone photography has made that spatial comprehension possible in images. Griffiths' drone shots introduce each of the gardens, allowing for a holistic view of how their various edges butt up against each other.
["source=smh.com"]